Tired of Sanitizers burning and drying out your hands? Pure Hand Sanitizer has got your back!
Did you know that alcohol-based sanitizers aren't the only option for keeping your hands sanitized? Would you believe me if I told you it was possible to receive the same bacteria cleansing benefits in a hand sanitizer without the burning, drying effects of the alcohol? The ingenious creators at Back to Earth have crafted a safe alcohol-alternative hand sanitizer approved by Health Canada! It's a safe, non-toxic hand sanitizer for you and your kids can use throughout the day without the harsh side effects. So you can stop over-applying lotion to your dry and cracked hands from the harsh chemicals in alcohol-driven sanitizers. Their powerful alcohol-free Pure Hand Sanitizer recipe is even safe for toddlers to use!
So how do they do it? One of their key ingredients is completely unique to Back to Earth. Ethically harvested on an island near the central coast of British Columbia, Kisameet™ Glacial Clay is sourced from a shallow granite basin that lies above sea level. The clay is absolutely PRISTINE, free from contaminants and untainted by marine waste and environmental pollutants.
Why I love this sanitizer
Whether I'm volunteering among vulnerable individuals or just making a trip to the grocery store, I'm slathering on hand sanitizer roughly 10039834598x per day. At least, it sure feels like it! My hands became so much dryer than usual that I also had to ramp up my lotion use as well. Hand sanitizers tend to dry hands because of its continuous use and high alcohol content. I also became concerned when I heard about certain alcohol-based sanitizers being recalled, thinking about all of the stores who (rightfully) insist that patrons use their hand sanitizer prior to entering stores.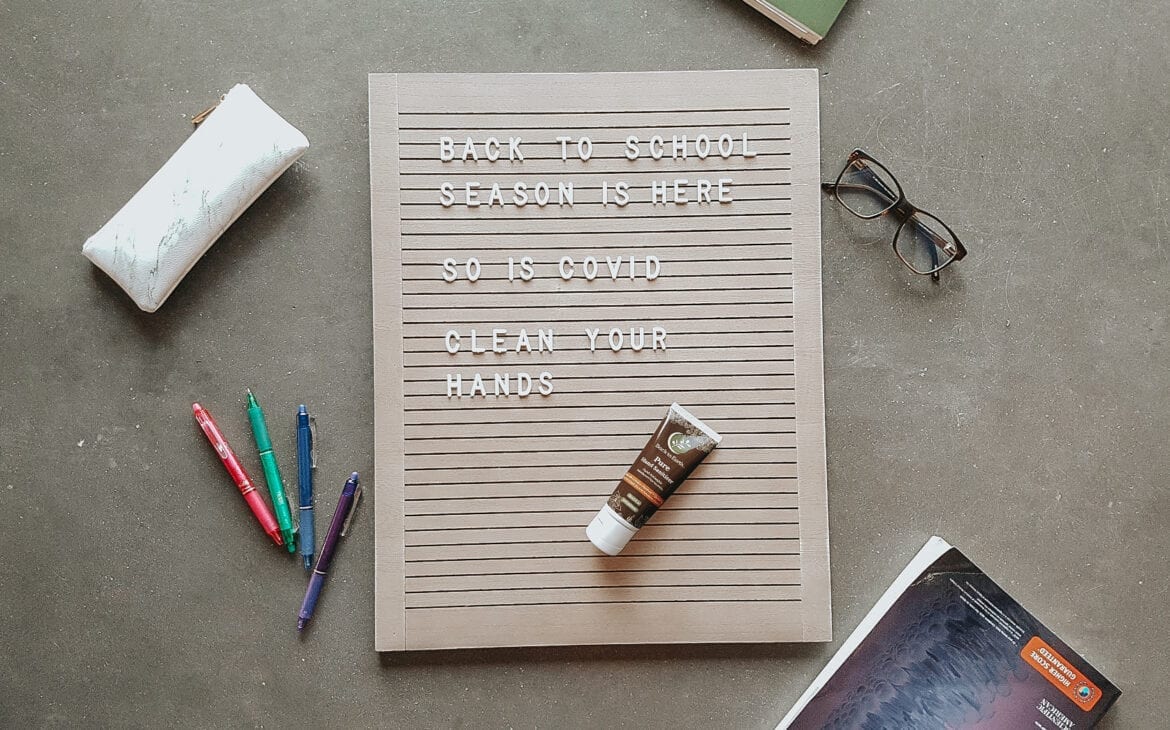 A toddler-safe sanitizer
Having a toddler who always immediately puts everything in his mouth has also made me more cautious as to what products we're using. So when it came to a sanitizer, I was on the look-out for something that was approved by Health Canada yet didn't leave my hands dry and cracked. Bonus points if my son could use it without putting his now alcohol-drenched hands into his mouth. I was ecstatic when I saw that a local brand had created a sanitizer that was created using natural ingredients that still got the job done!
It's been great seeing many stores providing this sanitizer at their doors. Considering how rampant germs are among kids in the best of times, I can't wait to see it at the entrance to daycares and schools when kids start going back! For parents, teachers, and students, it's very important that hand sanitizers are always close by and used regularly. The beauty is that the pure hand sanitizer brand can be comfortably used without causing hands to become dry and cracked.
Benefits of Pure Hand Sanitizer:
Health Canada Approved
Naturally hydrates your hands
Use no harsh chemicals
Leaves your skin soft, hydrated, and sanitized
Ingredients
St. John's Wort, water, colloidal silver, 100% essential oils of eucalyptus, lemon peel, rosemary, cinnamon bark, Canadian Kisameet TM Glacial Clay, sodium carbomer, castor & olive oils, and decyl glucoside.
Pure Hand Sanitizer microbial test results. Pure has passed the same microbial tests that alcohol-based hand sanitizers are put through.
Pure Hand Sanitizer Health Canada product license #80081695
FYI
If your hands are dried and cracked, check out their Sweet Pea Herbal Balm. It provides effective yet gentle relief using Kisameet™ Glacial Clay.